Birthday Parties
Looking to have a Birthday Party?
We have a variety of options available to ensure your celebration is never to be forgotten.
Soft Play parties, 5-A-Side parties, Ice Skating parties, Pool parties. Whatever party you choose we'll make sure you have a fun time.


Soft Play Party
Available Saturdays and Sundays
12:30 - 13:30 Soft Play (3 Bouncy Castles)
13:30 - 14:20 Room Hire

14:00 - 15:00 Soft Play (3 Bouncy Castles)
15:00 - 15:50 Room Hire

15:30 - 16:30 Soft Play (3 Bouncy Castles)
16:30 - 17:20 Room Hire


5-A-Side Party / Games Party
1 hour 5-A-Side plus 50 minutes Room Hire.


Pool Party
1 hour Pool* (shared with public) plus 50 minutes Room Hire. Please refer to our Admissions Policy for ratios.
No pool parties available during Fun Swims.


Ice Skating Party
Ice Skating Party available on Saturdays 11:00-12:00 hrs.
1 hour Skating* (shared with public) plus 50 minutes Room Hire.

View our Birthday Party Price List
Special Event Bookings/Extended Let Bookings
View our special event and extended let options here
Catering
Why not let the Galleon Centre provide the catering for your party?
Choose any of the meals from our sporting menu below and you are promised a great meal at unbeatable value to enable you to enjoy the party without the inconvenience of self catering.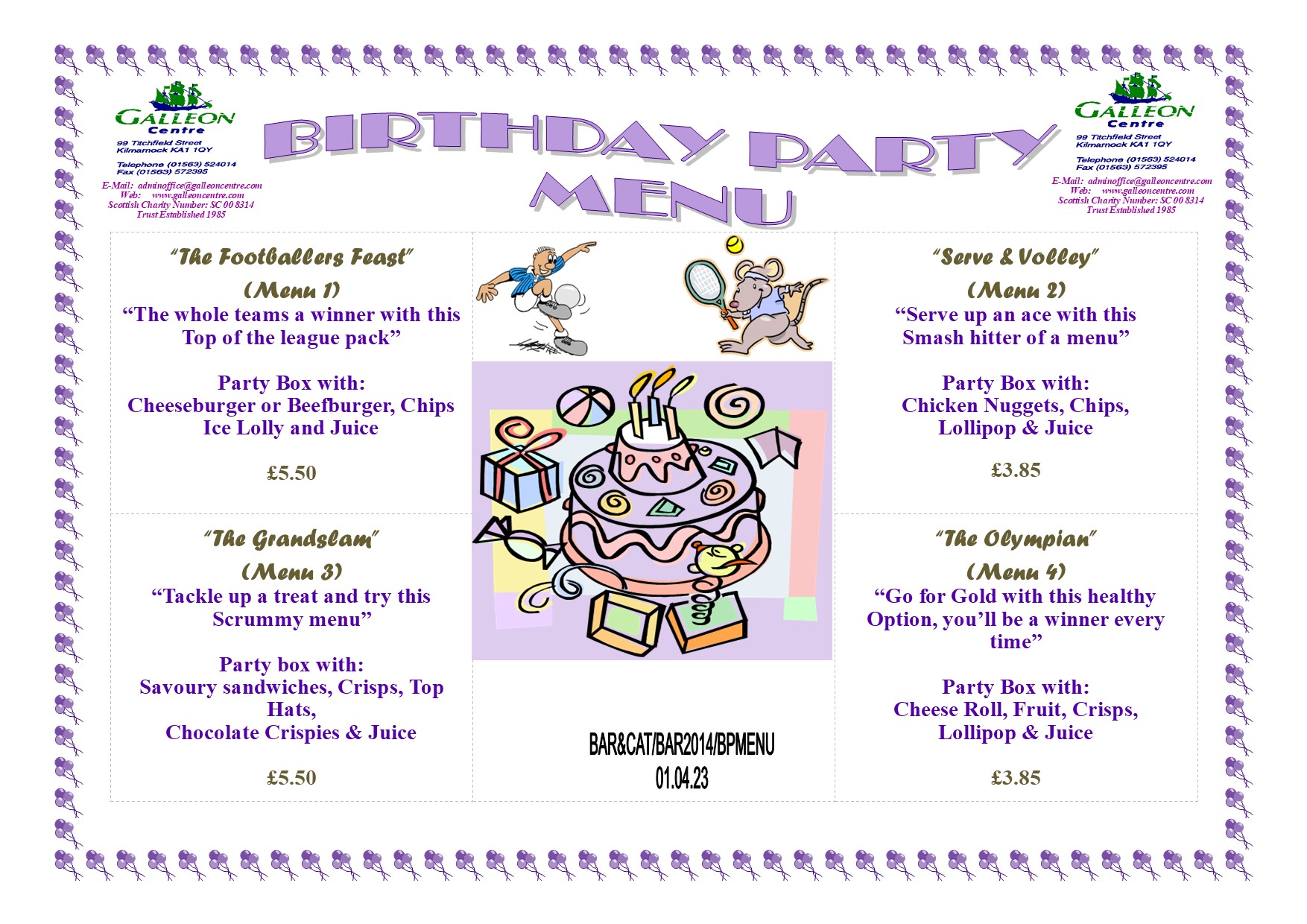 Parties Booking Procedures
1. Establish the date you wish to have your party, what time you would like your party to be and complete a Special Events Booking Form providing the following details.
1.1 Your name, address including post code, daytime/evening phone number.
1.2 Which type of event is the Birthday Party, please state if it is Soft Play, Swimming Party, etc.
1.3 Approximate numbers attending i.e. adults & children - maximum 40 children (20 for Pool Parties).
1.4 Give details of day, date and times for your party.
1.5 Details of catering requirements should be outlined on the booking form whether your party will be self catering or if you wish the Galleon Centre to cater for your party, please choose your preferred menu option from the Birthday Party Brochure and write on the booking form ensuring to give exact numbers of how many children to be catered for as the total cost of catering will be based on this number. Catering must be paid 48 hours in advance of the party.
1.6 If you require any special equipment or have any special requirements please highlight on the booking form.
1.7 Finally sign and return form with payment.
2. Return the booking form either to the reception desk or by email to This email address is being protected from spambots. You need JavaScript enabled to view it.
3. Your party booking will then be processed. Please note that the payment is non-refundable.
4. If the date and time you requested is not available we will try to arrange an alternative.
5. When your party has been paid you will receive written confirmation of your booking.
6. If you have requested catering final numbers must be confirmed 48 hours before the party if there are changes from the original booking.
7. This booking is non refundable.
8. Please note that Birthday Parties will be held in different areas during summer and winter. Please contact reception to find out where your party will be held.
Parties Cancellation Procedures
1.
Should you need to cancel your Birthday Party Booking you must submit this information in writing. A specific cancellation form is available for this purpose or else an email can be forwarded to the General Manager
2. You will then receive confirmation that your booking has been cancelled.